The Bizarre 1904 Olympic Marathon
In 1904, America hosted its first Olympics Games. Held in St. Louis, it was memorable for many reasons, including gymnast George Eyser winning six Olympic medals, despite competing with a wooden leg. But, the main reason these games will be long-remembered is the marathon - the strangest race in Olympic history.
The marathon is considered one of the showpiece events of the Olympics – a true test of endurance and stamina against the world's best athletes.
In 1904, the race took place in sweltering afternoon heat, over an unpaved, 26-mile dusty course encompassing seven hills, some of them hundreds of feet high. To make the race more of a trial of stamina, the organisers arranged only one water stop – a roadside well situated 12 miles into the race.
Thirty-two athletes took their places at the start line.
The Race
The conditions from the start were brutal, and many athletes succumbed to extreme heat fatigue, dehydration and dusty conditions throughout the race. American William Garcia was among the first, having inhaled so much dust while running that he suffered a near-fatal stomach haemorrhage.
Len Tau from South Africa was one of the first black Africans to compete in the modern Olympic Games. He started the race well and was looking good for a high place finish. However, a pack of wild dogs somehow found its way onto the course, chasing him a mile off track. He finished ninth.
Cuban postman Félix Carvajal had entered the marathon at the last minute, having lost all his money on a dice game a few days before. He arrived at the start line dressed in a white shirt, long trousers and walking shoes. Another athlete kindly cut his trousers into shorts for him. Carvajal started his race steadily and was plodding along well until hunger got the better of him. Having not eaten for over 40 hours, he stopped at an orchard to feast on some apples, which turned out to be rotten. Suffering from stomach cramps, Carvajal took a long nap by the side of the road. He ended up finishing fourth.
As the race progressed, more and more competitors began dropping out due to extreme fatigue, dehydration and sickness.
When one of the race favourites, Thomas Hicks, found himself struggling seven miles from the finish, his support team gave him an unusual stimulant booster to aid him. A cocktail of strychnine (rat poison), mixed with egg whites and brandy. He completed his last few miles hallucinating and barely able to walk.
Who won?
The first competitor to cross the finishing line was American Fred Lorz, who reached the finish in just under three hours. However, all was not as it first seemed. It transpired that Lorz actually dropped out of the race after 9 miles and hitched a ride to the finish line in a car. The car broke down before the finish, so he re-entered the race and jogged across the line, taking the applause.
The race ended up being so brutal that only 14 of 32 entrants completed the course. And the winner? Thomas Hicks – the man who drank the rat poison. Still hallucinating and barely able to move, he was carried across the line by his support team.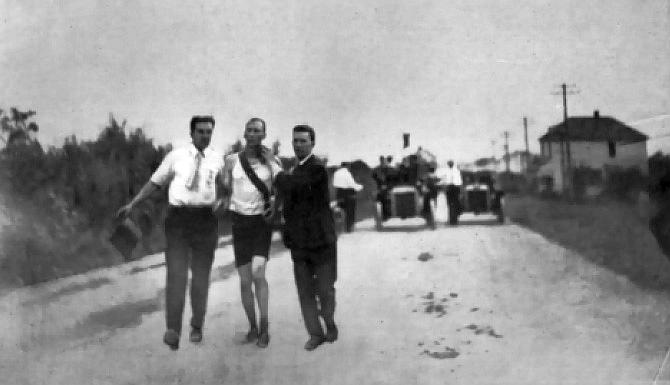 Life is a marathon
When I first read the story of the 1904 Olympic marathon, I found it both extraordinary and funny at the same time. We can obviously look back and say that the planning for the event was terrible and invited disaster. But, for me, the different characters of the people really stand out.
I love the character of Félix Carvajal, who turned up at the start line dressed in a shirt and trousers, and who paused throughout the race to chat with spectators. You really get the impression he was just enjoying being there. And, who knows, if it wasn't for a rotten apple, he might have won the race and written himself further into Olympic folklore with the ultimate underdog achievement.
It has often been said that life is a marathon, and not a sprint. I think the unusual story of the 1904 Olympic marathon serves as a good metaphor in this regard: Things often don't go how we plan them to, and we sometimes have to adapt to a changing situation.
How will your marathon play out?
Perhaps, in your life, you might find yourself changing course in the face of adversity, like Len Tau, and needing to work out a new direction?
Maybe you'll find yourself in a position like Thomas Hicks – needing some help to achieve your goals, but being offered support that isn't really what you want. Perhaps you might have to look elsewhere to find those who can give you what you need.
Perhaps you will be like Fred Lorz – taking advantage of an opportunity to better your situation (whether unfair or not).
Or, maybe you will just be like Félix Carvajal – throwing yourself into new opportunities, despite being a bit unprepared; suffering occasional misfortune, but recovering and coming back strong?
Whatever your life marathon looks like, with all the ascents and descents that make it what it is, one thing is for sure: it'll be unique and unpredictable. And that makes it worth celebrating.